The Wolves Are Back (Hardcover)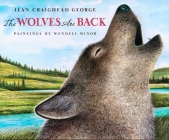 $17.99
Usually Ships in 1-5 Days
Description
---
Two renowned children's book creators teamed up to make this stirring picture book that tells the story of how, over a century, wolves were persecuted in the United States and nearly became extinct. Gradually reintroduced, they are thriving again in the West, much to the benefit of the ecosystem. This book will teach a new generation to appreciate the grace, dignity, and value of wolves as it promotes awareness of the environment's delicate balance. Paired with gorgeous paintings by landscape artist Wendell Minor, Jean Craighead George's engaging text will inspire people of all ages to care about the protection of endangered species.
About the Author
---
Jean Craighead George was the preeminent nature writer for children. She is the author of My Side of the Mountain and Julie of the Wolves, and her work spanned 50 years. She died in May 2012 at age 93. 

After completing his studies at the Ringling School of Art and Design in Sarasota, Florida, Wendell Minor began creating original designs for book publishers in New York City. He has created jacket illustrations for more than 2000 books, and has illustrated dozens of books for children, including America The Beautiful and Yankee Doodle America. He lives in Connecticut.
Upcoming Events
07/01/2019 - 9:00am to 07/31/2019 - 3:00pm