Moles Present the Natural Tolls of Digging Holes (Hardcover)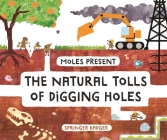 $17.99

Usually Ships in 1-5 Days
Description
---
Like busy moles, we humans dig an awful lot of holes to get things done, in the ground, in our oceans, and even in our bathrooms! We dig holes in sandboxes to play games with friends, on ancient sites to discover awesome treasure and fossils, and on farms to plant the food we eat. Unfortunately, we also dig holes that aren't so wholesome—holes that rip apart the ground, spill dangerous chemicals, and permanently damage the earth. Going on this way means digging nature into a deeper hole, but used correctly, our shovels and machines might be able to help our planet instead of destroy it.

In whimsical rhyme and delightfully strange illustrations, these moles unearth the good and bad excitement happening beneath our feet, exposing our huge environmental impact and urging us to put our harmful ways back under construction.
About the Author
---
Springer Badger favored a simple, clean art style for this book to make the busy spreads easy for readers to understand. They earned a BFA in Illustration from the University of Central Missouri and are currently finishing an MFA in Children's Book Writing and Illustrating at Hollins University. They currently live in Salem, Massachusetts. This is their debut picture book.