The Night Riders (Hardcover)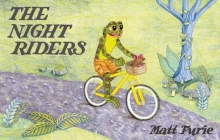 $17.95
Email or call for price.
Description
---
In Matt Furie's glorious debut, a nocturnal frog and rat awake at midnight, share a salad of lettuce and bugs, and strike out on an epic dirtbike adventure toward the sunrise. As the friends make their way from forest to bat cave to ghost town to ocean to shore and beyond, new friends are discovered, a huge crab is narrowly avoided, and a world is revealed. Packed with colorful characters and surprising details on every hand-drawn page, The Night Riders is the ideal book for anyone who has ever wanted to surf to the mountains on the back of a dolphin.

About the Author
---
Matt Furie was born in Columbus, Ohio in 1979. He graduated from Ohio Wesleyan University in Delaware, Ohio in 2001. Matt is a Leo, he enjoys long walks in the park, bubble baths, and an occasional glass of wine. His comic series "Boy's Club" is published by Buenaventura Press.
Praise For…
---
"Stunning... The Night Riders is my favorite book of the year. It will soon enough be referred to as a classic, and I hope it spawns many sequels."50 Watts

"AMAZING. This book just zoomed to the top of my all-time-favorite-kids'-books list."
Jordan Crane

"Oddly heartwarming [and] filled with unexpected turns... On every page, Furie imagines ever more pleasantly surreal plants, trees, and animals."Publisher's Weekly

"Presented in a mix of sequential panels and full-spread views, this easy-to-follow debut tale is rich in both drama and sights that are less dangerous-looking than delightfully strange."
Kirkus

"Wonderfully written and illustrated."Media Darlings Blog

"A fantastic debut... My son was totally captivated by the meticulous details of fur, scales, claws, tongues, and menagerie of bizarre creatures residing in the scenery. It's a story that at first glance might seem slightly creepy and odd, but turns out to be stirring and surprisingly touching." Apartment Therapy