Author Signing with Ann Hodgman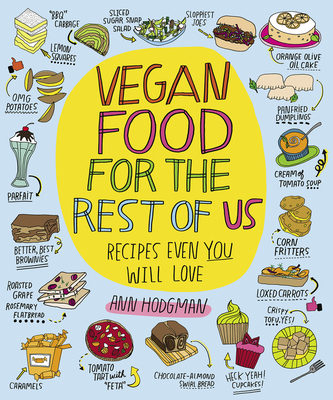 Ann Hodgman returns to The Hickory Stick Bookshop to sign copies of her latest cookbook, Vegan Food for the Rest of Us: Recipes Even You Will Love (Rux Martin, $22) on Saturday, November 11th at 4pm - Recipes for regular people who love great food by "a humorist and cookbook author whose recipes really work."
To create her very best recipes for Beat This, a cult favorite and a hilarious book full of seriously delicious recipes, Ann's formula was simple: "Double the chocolate and add bacon." But when she decided to go vegan, what in the world was she going to put in her pound cake--buttons?

For a while, her kitchen resembled a molecular gastronomy lab. After a hellish incident with seitan, she made a decision: No more foods that made her hungry for her former life. No recipe would make the cut in her new life unless her husband liked it enough to beg for second helpings. More than 100 Hodgman-family-tested recipes later, Vegan Food for the Rest of Us was born, full of brilliantly original culinary discoveries, honest and funny writing, and yes, the very, very best recipes.
"The gold standard is Ann Hodgman who offers laugh-out-loud commentary in all her fabulous cookbooks." –Novelist Elizabeth Berg
"If you like reading cookbooks for more than the recipes, you need to read Ann Hodgman, one of the few cookbook writers whose introductions (we call them headnotes) and even recipe names regularly make me chuckle, if not guffaw. Her latest book, Vegan Food for the Rest of Us is no exception, except now, as you can tell by that title, Hodgman, 60, is bringing her matter-of-fact sense of humor to the topic of vegan cooking, something she has been trying to master since becoming vegetarian in 2009." -Joe Yonan, Food and Dining Editor, The Washington Post
Ann Hodgman is the author of the Beat This! and Beat That! Cookbooks and One Bite Won't Kill You. She has also written fifty children's books, including The House of a Million Pets and How to Die of Embarrassment Every Day. She lives in Washington, CT.
This event is free and open to the public. If you are unable to attend this event, you may reserve a signed copy of Vegan Food for the Rest of Us by calling The Hickory Stick Bookshop at (860) 868 0525. For further information about this event please visit www.hickorystickbookshop.com or email books@hickorystickbookshop.com
Event date:
Saturday, November 11, 2017 - 4:00pm
Event address:
Washington Depot, CT 06794

$22.00
ISBN: 9780544324497
Availability: Usually Ships in 1-5 Days
Published: Rux Martin/Houghton Mifflin Harcourt - June 6th, 2017
---
Event Photo: