Author Signing with Cuyler Overholt - A Promise of Ruin
Litchfield County author Cuyler Overholt will return to The Hickory Stick Bookshop on Saturday, August 19th at 4pm to discuss and sign her new book, A Promise of Ruin (Sourcebooks, $15.99), the highly anticipated continuation of her Dr. Genevieve Summerford mystery series.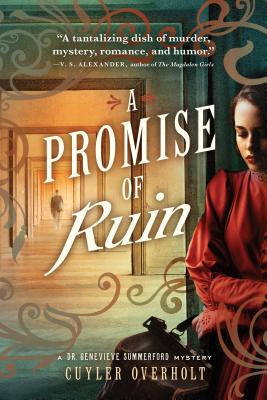 The second book in the Dr. Genevieve Summerford mystery series, A PROMISE OF RUIN follows Genevieve as she is drawn into the investigation of a young Italian immigrant woman who has gone missing, and walks straight into New York's underworld.
As Dr. Genevieve Summerford watches from the docks, the body of a young Italian woman is pulled from the East River, dampening the city's Independence Day festivities. Although the police suspect random violence, when Genevieve is asked to help find another young Italian woman who's gone missing, she wonders if something more sinister might be afoot.
Desperate to find the missing woman before she too meets a grisly end, Genevieve must rely on all of her skills as a psychiatrist--both to understand the mind of a cunning predator, and to help the victims he's left behind. But none of her training can prepare her for what happens when she herself is captured, bringing the case much closer to home than she'd ever anticipated.
"A riveting period puzzler, filled with history, mystery, and romance." --Susan Elia MacNeal, New York Times bestselling author of the Maggie Hope series
After graduating from the University of Virginia School of Law, Cuyler Overholt practiced as a litigation associate for four years before leaving the law to start a freelance writing business. Over the next decade she transformed technical jargon into entertaining prose for a New York-based public relations firm. She finally found her true calling when she started scribbling a novel during her young sons' naptimes. A Deadly Affection, her award-winning debut, is the first installment in the Dr. Genevieve Summerford historical mystery series.
This event is free and open to the public. If you are unable to attend this event, you may reserve a signed copy of A Promise of Ruin by calling The Hickory Stick Bookshop at (860) 868 0525. For further information about this event please email books@hickorystickbookshop.com
Event date:
Saturday, August 19, 2017 - 4:00pm
Event address:
Washington Depot, CT 06794

$15.99
ISBN: 9781492637394
Availability: Usually Ships in 1-5 Days
Published: Sourcebooks Landmark - August 8th, 2017
---
Event Photo: