Author Signing with Jeanne Blasberg - Eden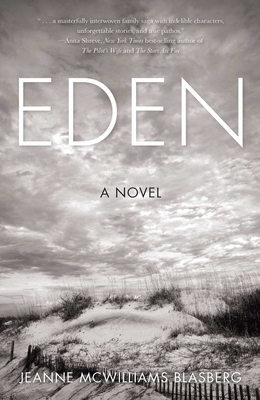 The Hickory Stick Bookshop welcomes debut author Jeanne Blasberg on Saturday, October 7th at 2pm to sign copies of her novel, Eden (She Writes Press, $16.95).
Becca Meister Fitzpatrick, wife, mother, grandmother, and pillar of the community, is the dutiful steward of her family's iconic summer tradition… until she discovers her recently deceased husband squandered their nest egg. As she struggles to accept that this is likely her last season in Long Harbor, Becca is inspired by her granddaughter's boldness in the face of impending single-motherhood, and she summons the courage to reveal a long-buried secret: the existence of a daughter she gave up fifty years ago. The question now is how this news will test Becca's already strained relationship with her other daughter Rachel.
Interwoven with the century-old history of Becca's family, Eden is the account of the days leading up to the Fourth of July weekend, as Becca prepares to disclose her secret while her family conspires to put the estate on the market.
"..a beautifully written masterpiece that takes you on a historical journey…." —BOSTON HERALD
"Blasberg's evocative prose captures the place and atmosphere…. An engrossing, character-driven family saga." –KIRKUS
Jeanne Blasberg is a voracious observer of human nature and has kept a journal since childhood. She has been known to stare at strangers on more than one occasion to the embarrassment of her three children. (Mom, stop staring!) After graduating from Smith College, she surprised everyone who knew her by embarking on a career in finance, making stops on Wall Street, Macy's and Harvard Business School, where she worked alongside the preeminent professor of retail and wrote case studies and business articles on all sorts of topics on everything that has to do with…shopping.
A firm believer that you are never too old to change course or topics (in truth, she's not a big shopper), Jeanne enrolled at Grub Street, one of the country's great creative writing centers, where she turned her attention to memoir and later fiction, inspired by her childhood journal. Eden is her debut novel.
Now deep into her second novel, Jeanne and her husband split their time between Boston and Westerly, RI. When not writing, Jeanne can be found playing squash, skiing, or taking in the sunset over Little Narragansett Bay, and sometimes simply staring at interesting characters doing uninteresting things.
Jeanne's writing has appeared in The Sun Literary Magazine's Reader's Write, Squash Magazine, Interfaith Family.com, Dead Darlings.com, BreakingMatzo.com, The Huffington Post, Women Writers Women's Books, and Adoptimist.com.
This event is free and open to the public. If you are unable to attend this event, you may reserve a signed copy of Eden by calling The Hickory Stick Bookshop at (860) 868 0525. For further information about this event please email books@hickorystickbookshop.com
Event date:
Saturday, October 7, 2017 - 2:00pm
Event address:
Washington Depot, CT 06794

$16.95
ISBN: 9781631521881
Availability: Usually Ships in 1-5 Days
Published: She Writes Press - May 2nd, 2017
---