Children's Author Signing with Tomi dePaola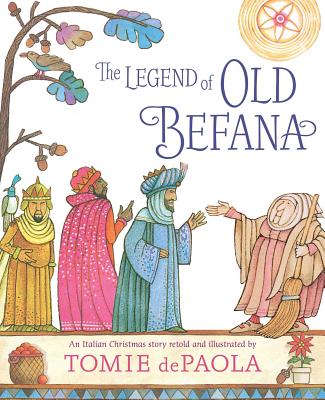 Tomie dePaola, beloved children's author/illustrator and creator of the classic Strega Nona series, will sign books at The Hickory Stick Bookshop on Sunday, November 5th at 2pm to celebrate the release of his new picture book, The Legend of Old Befana (Simon & Schuster, $17.99). Please call 860-868-0525 to reserve your place.
In this beloved classic picture book, Tomie dePaola retells and illustrates an Italian Christmas folk tale, breathing warmth and humanity into the character of the lonely Old Befana and her endless search for the Christ Child.
Every morning and every afternoon, Old Befana sweeps with her broom. "Cranky old lady," the children say. "She is always sweeping" Sweep, sweep, sweep.
But when a brilliant star glows in the eastern sky one night, and Old Befana encounters the glorious procession of three kings on their way to Bethlehem, her little world will never be the same.
"De Paola's illustrations aptly capture the whimsy of this ancient tale... simple line drawings clearly reveal the agony and ecstasy of pasta power, the muted colors create just the right ambiance for a Medieval village." –NYT Book Review (Strega Nona)
"A wryly funny story of love and entitlement, with all the homey charm the dePaola's fans expect and love." –Publishers Weekly, starred review (Strega Nona Does It Again)
"Inventive and revealing, dePaola provides a lyrical blend of text and art. This is an inspired and childlike offering." –Publisher's Weekly, starred review (The Art Lesson)
Tomie dePaola is one of the most popular children's book authors and illustrators of our time and the recipient of the 2011 Laura Ingalls Wilder Award, among other lifetime achievement awards. A Newbery Honor winner, he has written and illustrated a number of books for Simon & Schuster, including Caldecott Honor book Strega Nona, as well as Oliver Button Is a Sissy, Charlie Needs a Cloak, and Andy, That's My Name. A native of Connecticut, Mr. dePaola studied at the Pratt Institute in Brooklyn, New York, and now lives in New London, New Hampshire. Visit him online at Tomie.com and TomiesBlog.Blogspot.com
This event is free and open to the public, but reservations are requested. Please call 860-868-0525 to reserve your place. If you are unable to attend this event, you may reserve a signed copy of The Legend of Old Befana by calling The Hickory Stick Bookshop at (860) 868 0525. For further information about this event please visit www.hickorystickbookshop.com or email books@hickorystickbookshop.com
Event date:
Sunday, November 5, 2017 - 2:00pm
Event address:
Washington Depot, CT 06794

$17.99
ISBN: 9781481477635
Availability: Usually Ships in 1-5 Days
Published: Simon & Schuster Books for Young Readers - November 7th, 2017
---
Event Photo: