Libro.fm Audiobooks
Dive into one of our favorite bestselling audiobooks and listen anytime, anywhere.
In our effort to meet our customers' requests for books in different formats, we have partnered with Libro.fm to provide you the best digital audiobooks for adults and children alike. You'll find not only bestsellers but great books hand-picked by the Hickory Stick and other independent bookstores. You can easily listen on any device (phone, tablet, PC) as all our books are DRM-free.
For over sixty years, the Hickory Stick Bookshop has been serving the Washington community and beyond. The Hickory Stick provides readers of all ages a unique book experience with its hand-picked selection and experienced staff. We also carry children's learning activities, toys, puzzles, games, music, calendars, greeting cards, book accessories and other gift items such as Baggallini bags, local yarn, picture frames, and soy candles.
---
How to Get Started (don't worry, it's easy!)
Visit https://libro.fm/hickorystickbookshop and purchase your digital audiobook.
You'll receive a confirmation email with instructions to download the free app for easy listening on your mobile device.
Start listening. Sign into the app and download your book(s) to your device.
---
Hickory Stick Bookshop Featured Playlists
The Indie Next List
The Indie Next List, drawn from bookseller-recommended favorite handsells, epitomizes the heart and soul of passionate bookselling.
Great Books on Sale
Our best books at a great price. Don't delay as these deals will only be available for a limited time. Keep checking back for new books!
The New York Times Best Sellers
NYT bestsellers in fiction, nonfiction, and selections from advice, how-to, and miscellaneous.
---
Some of Our Favorite Listens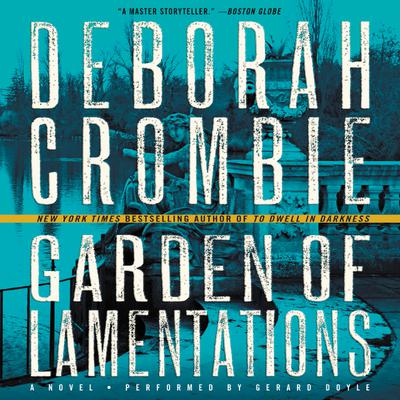 Garden of Lamentations
By Deborah Crombie
"Escape to London with husband and wife detectives Kincaid and James in Deborah Crombie's Garden of Lamentations. You'll be engaged in the twists and turns, murder, and corrupt police as the main characters must determine who to trust." -Pat
Rabbit Cake
By Annie Hartnett
"Imagine Maria Semple, Jeanette Walls and Alexandra Fuller all knocking heads to create an eccentric, quirky and utterly charming tale of a ten year old protangonist dealing with the loss of her mother. And, her name is Elvis.
Annie Hartnett conveys bittersweet/hilarious moments with a southern twang.
Love this book." -PAM
Big Magic
By Elizabeth Gilbert
---
Listening Just Got a Lot More Fun
Listen to your Libro.fm audiobooks anytime, anywhere. With the free app, enjoy great books during your commute, workout, chores, and more!